The European ATEX Directive 2014/34/EU 8 controls the manufacture and import of many products for use in explosive atmospheres, including non-electrical equipment. It requires that the product is safe, and carries a label indicating the conditions under which it is approved for use. All ATEX equipment must bear the CE/UKCA marking. Import, sale or workplace use of equipment without ATEX approval is illegal within the EU (in the UK, it is the UKCA mark).
Many modern devices will carry both ATEX and IECEx approval, and so the nameplate will display codes and information from both schemes. Some of that information is common, some is not. A typical ATEX and IECEx nameplate is shown below.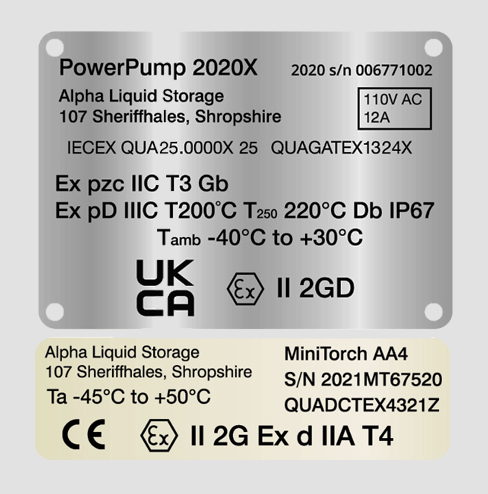 The minimum information on the nameplate required by ATEX Article 6 is as follows:
Name and address of the manufacturer(s) who hold the production quality assurance certificate. On very small products the address can be placed on the packaging. For non-EU items the importer's details are also required.
The CE/UKCA marking - shall be at least 5mm in height wherever possible and shall be followed by the serial number of the Notified Body certifying the production assurance system or type examination.
Type or model reference, and serial number (if any).
Year of manufacture - this may be part of the serial number, to simplify printing of labels or castings.
The ATEX Marking - the "hexagon" symbol immediately followed by the equipment group and category.
Additional marking "as required for safe use" - such as the explosion classification, ambient temperature limit, supply voltage, etc. - the Directive requires this information to be shown but does not define exactly what it is, rather the various product standards (EN and IEC) will each define certain fields and symbols to display.
These nameplates are available in any size/quantity and in a range of materials including brass, 316 grade stainless steel and anodised aluminium.
Click here to order